Top 5 Reasons to Build a Custom Deck
Investing in your home is not just about increasing its market value; it's also about enhancing your quality of life and creating a space that truly reflects your personality and style. That's why a new deck is one of the most rewarding home investments you can make. While some may see it as a simple addition, a custom deck offers a range of benefits that go far beyond its initial cost. In this blog, we'll explore the five reasons why a custom deck is a great investment.
Imagine, sipping your morning coffee while basking in the warm glow of a sunrise or hosting a lively barbecue with friends on a summer evening — all from the comfort of your custom-designed deck.
1. A Custom Deck Offers Personalization & Unique Design
A custom deck allows you to personalize your outdoor space according to your tastes, design preferences, and lifestyle. Unlike pre-built decks that follow a generic design, a custom deck is tailored to suit your specific needs. You can choose the materials, colors, and design elements that complement your home's architecture and align with your personal taste. This level of personalization not only enhances the visual appeal of your outdoor space but also creates a unique and inviting atmosphere that reflects your personality. Whether you prefer a sleek modern look, a rustic retreat, or a cozy haven for relaxation, a custom deck can be designed to match your vision and lifestyle needs.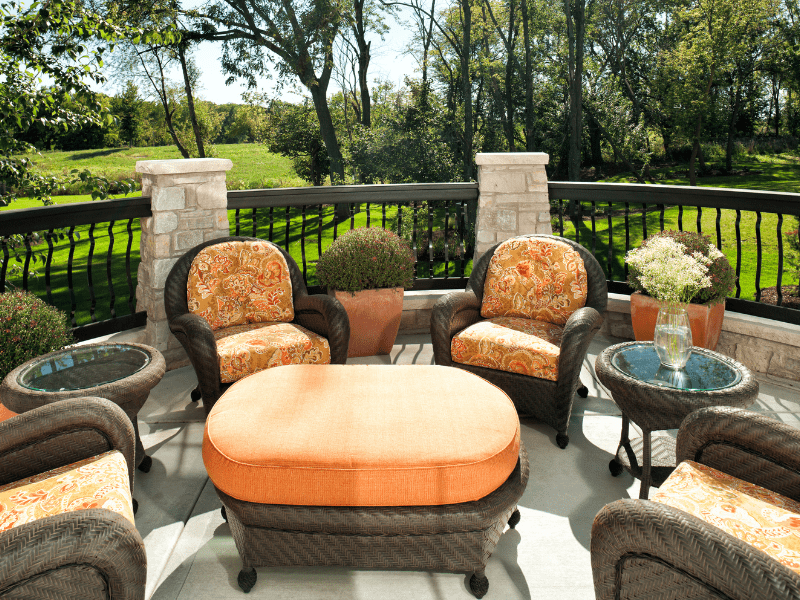 2. A Custom Deck May Increase Your Home's Property Value & Provide a High ROI
While personal enjoyment is a significant factor in investing in a new deck, it's also essential to consider the financial aspect. Real estate experts consistently agree that well-designed and well-maintained outdoor spaces can significantly increase the overall value of a property. Potential buyers are often willing to pay a premium for a home with a thoughtfully crafted, functional deck that adds to the amount of livable space.
Additionally, the 2022 State of Remodeling report reveals a new deck provides one of the highest exterior remodel returns on investments (ROIs). A composite deck addition can generate an 86.9% ROI, while a screened-in porch addition can generate a whopping 92.9% ROI.
A thoughtfully crafted deck can make your property stand out in the real estate market, potentially resulting in a higher resale value and a faster sale.
3. A Low-Maintenance, Durable Deck is Cost-Effective in the Long Run
Building a custom deck gives you control over the materials used in its construction. High-quality materials typically result in a low-maintenance, durable deck. Selecting a mix of superior, durable materials, such as imported hardwoods and the best composites, means your outdoor space will look great and stand the test of time. While the initial investment may seem substantial, it's essential to consider the long-term savings. Longevity not only saves you money on repairs and replacements but also adds to the overall sustainability of your investment. You get to spend more time enjoying your deck and less time and money on maintenance.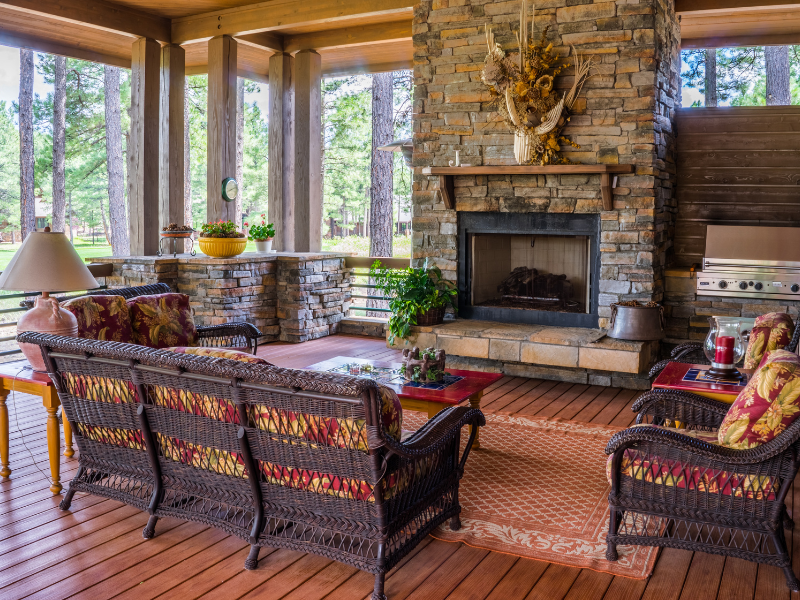 4. A Custom Deck Transforms Your Outdoor Space for Entertainment & Socializing
Gone are the days when decks were just wooden platforms. Modern custom decks can be equipped with various features, such as built-in seating, fire pits, outdoor kitchens, roofs, and lighting systems that transform your outdoor area into a year-round entertainment hub. A new, spacious deck provides a perfect space for family gatherings, barbecues, and social events. The versatility of a custom deck or covered patio allows you to create different zones for dining, lounging, or even a dedicated area for a hot tub. This added living space is invaluable for those who love to entertain or simply enjoy the outdoors.
A custom deck effectively extends your living space into the outdoors, offering a versatile, year-round area for relaxation, dining, and socializing.
5. A Beautiful Deck Offers Improved Health & Well-being
Spending time outdoors has numerous proven health benefits, both physical and mental. A custom deck provides a private outdoor oasis where you can unwind, enjoy fresh air, connect with nature, and escape the stress of daily life. Whether sipping your morning coffee, watching the sunset with loved ones, or quietly stargazing, a dedicated outdoor space can contribute to your overall well-being and encourage relaxation, which promotes overall well-being.
Many modern decking materials are resistant to decay, insects, and harsh weather conditions, reducing the need for constant upkeep.
When It Comes to Home Investments, a Custom Deck is a Multifaceted Gem
When it comes to home investments, a custom deck stands out as a multifaceted gem. It not only adds financial value to your property but also enriches your daily life by creating a personalized, versatile, and enjoyable outdoor space. It's an investment in your lifestyle, comfort, and the overall value of your property. With the ability to personalize, expand your living space, increase home value, and create an entertainment hub, a custom deck is a versatile addition that can elevate your outdoor living experience for years to come. So, why settle for a standard deck when you can have a tailor-made outdoor haven that perfectly suits your needs and style?
Get a Free, No-Obligation Custom Deck Estimate
Whether you want a cozy nook for reading, a spacious dining area for family gatherings, or a platform for yoga and meditation, a custom, high-quality deck from Jones Home Improvements in Cottleville, Missouri, can be designed to accommodate your specific needs and turn your backyard into a multifunctional oasis. Contact your deck specialist today for more information and a free, in-home estimate. (636) 317-1977